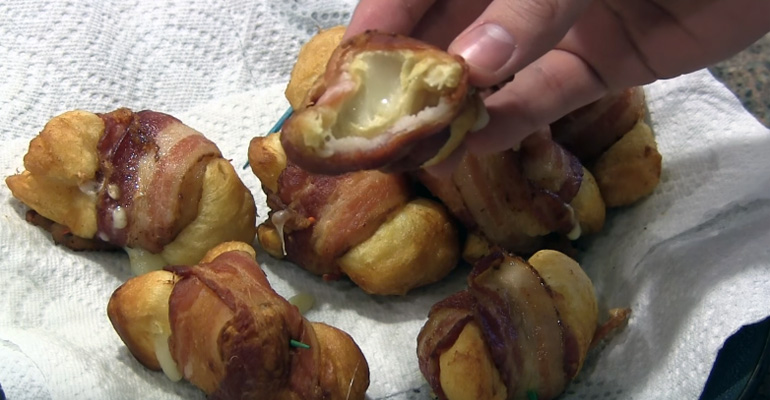 I'll ask you a few questions. Do you like bacon? Do you like ooey gooey mozzarella cheese? Do you like crispy, flaky dough? If you answered "Yes!" to all 3 questions then you are going to fall in love with this easy to make appetizer.
YouTuber StokedOnSmoke made a video of himself making incredible Cheesy Bacon Bombs and they taste as great as they look. Every bite is filled with cheesy bacon goodness all wrapped in a crispy and fluffy biscuit dough. They are cheese sticks that are taken to an entirely new level of goodness.
Ingredients
1 can (8 count) Pillsbury Grands Flaky Layers Biscuits
Mozzarella cheese (cubed, 1-1″ cube per Bomb)
2 lbs. of bacon (1 slice per Bomb)
Skewers or toothpicks
Oil for frying
This recipe was created by the food bloggers at Oh, Bite It! and please visit their site for even more incredible appetizers and other great recipes.. Please share this incredible video recipe for making Cheesy Bacon Bombs with your friends and family.