Nothing beats a homemade spaghetti sauce that is made with fresh ingredients and has been simmering for hours. My mom made this sauce growing up and I've been using her spaghetti sauce recipe for decades. This homemade spaghetti sauce is made with ground beef, onions, celery, mushrooms, green peppers, and canned plum tomatoes.
I suppose you could call this a Bolognese sauce recipe because it does create a rich and hearty meat sauce. But, at my house, we always simply called it spaghetti sauce. Once you make a homemade spaghetti sauce and see how easy it is to make, I think you'll agree that there isn't a reason to buy jarred tomato sauces. It can be time-consuming but the great thing about spaghetti sauce is that it freezes well so feel free to double or even triple the recipe.
The main ingredients you'll need to create this delicious spaghetti sauce recipe.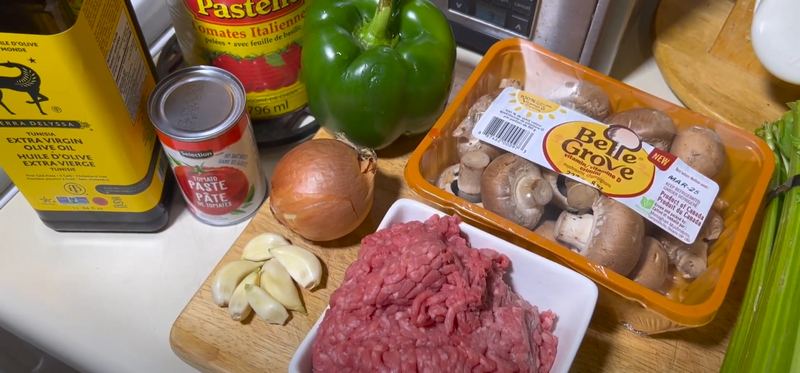 Making homemade spaghetti doesn't need to be complicated. All you need is some time and fresh quality ingredients. For this sauce, you'll need onions, celery, green peppers, mushrooms, garlic, ground beef, canned whole tomatoes, tomato sauce, tomato paste, olive oil, along with a few spices.
First, you'll want to start prepping your vegetables. Start by chopping the onions, celery, and green peppers. Next, we'll slice the mushrooms and mince the garlic. Now, we're ready to cook!
1) Place your pot or pan on medium heat and add olive oil along with the onions, celery, green peppers, and mushrooms. Sprinkle with salt and pepper and cook until the onions are translucent.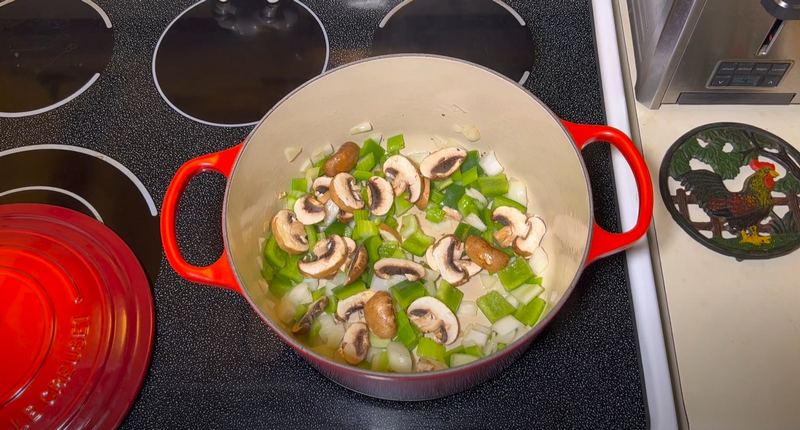 2) Add the ground beef and stir until browned.
In order to help break down ground beef, I sometimes add 1/2 cup of water. This helps separate the ground beef and prevents any meat chunks from forming when cooking. But generally, if you keep stirring while the meat is cooking, it cooks evenly.
3) Next, add the whole tomatoes, tomato sauce, tomato paste, minced garlic, and water.
Don't worry about breaking up the tomatoes, as they cook, they'll slowly get so soft that they'll break down when you stir the sauce. One tip when choosing canned tomatoes: Avoid buying canned tomatoes that include calcium chloride if cooking a tomato sauce. Calcium chloride is a firming agent that is often added to diced tomatoes so that they remain "diced" when cooking; however, some companies do add it to canned whole tomatoes. But, most companies don't because whole tomatoes are generally meant to break down as you cook them.
4) Add all spices, bring to a boil, then simmer, covered, on low heat.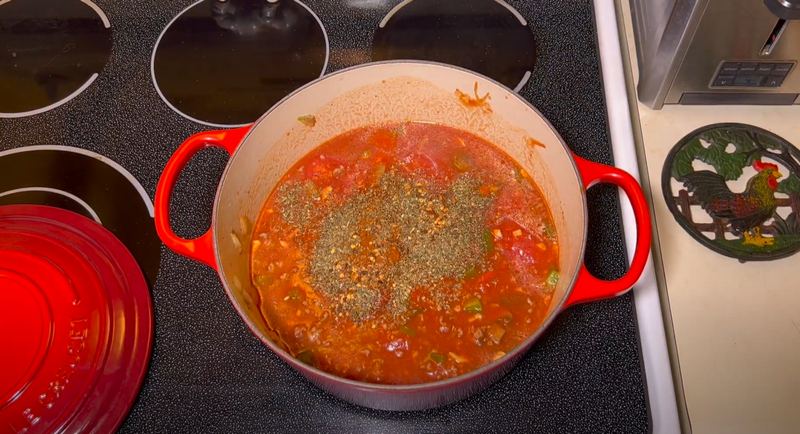 If you're rushed for time, you can always cook the sauce uncovered on medium heat while stirring often; however, slowly simmering the sauce on low heat for 2 hours will let the sauce develop rich flavors from all the ingredients. There should be enough moisture in the sauce to prevent sticking but it's always a good idea to give it a good stir every 15-30 minutes.
5) After simmering for 2 hours, the sauce should be thick and ready to serve! I hope you enjoyed this spaghetti sauce recipe!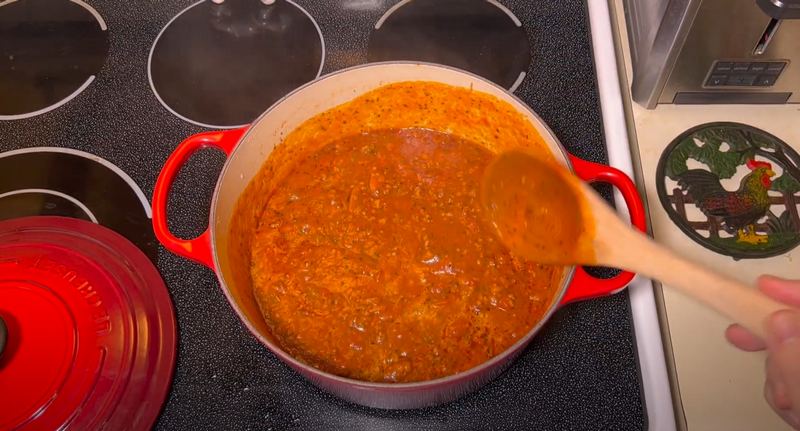 This recipe creates enough spaghetti sauce for 1 1/2 pounds of dried pasta and is good enough to serve 5 to 6 people generously. This sauce also freezes well. If you enjoyed this recipe, please check out this recipe for Cajun chicken alfredo pasta with broccoli.
Please SHARE this delicious homemade spaghetti sauce recipe with your friends and family.